Posts for: November, 2021
By Abington Dental Arts, PC
November 17, 2021
Maintaining your health is more than exercising and eating right. Your oral health is just as important as your physical health. At Abington Dental Arts, Dr. Jeffrey Bell, Dr. Dale Collins, and Dr. Amy Cravath are here to help you stay on top of your dental health. Keep reading to learn why you should never miss your regular checkups.
Preventive Care
The majority of your dental care will be preventive care. This is the care you receive from your dentist in Clarks Summit, PA, in order to prevent problems from arising. With dental care, there are many steps that can be taken to preserve the health and durability of the teeth. During your regular checkups, your dentist will administer care and treatments which can keep your teeth healthier longer.
Early Detection
An important reason to always stay on top of your checkups with your dentist in Clarks Summit, PA, is for the purpose of early detection of dental problems. When problems do arise with your dental health, early detection is the best way to keep the situation from worsening. When dental issues are left untreated, they can become a threat to your health. In addition to this, when dental issues are ignored they are usually far more expensive to treat later on when the damage has worsened.
Early detection is one of your best tools against invasive and health-threatening dental problems.
Dental Improvements
When you visit your dentist in Clarks Summit, PA, you will also have the opportunity to discuss with them options for dental improvements. Dental improvements can include cosmetic dental procedures which can improve your smile with procedures as veneers, orthodontics, teeth whitening, and other services.

If you would like to learn more about our services, please contact Dr. Bell, Dr. Collins, and Dr. Cravath of Abington Dental Arts today at (570) 586-1411.
By Abington Dental Arts, PC
November 09, 2021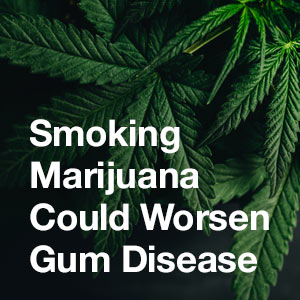 It seems with each new election cycle another U.S. state legalizes marijuana use. It remains a flashpoint issue that intersects politics, law and morality, but there's another aspect that should also be considered—the health ramifications of using marijuana.
From an oral health perspective, it doesn't look good. According to one study published in the Journal of Periodontology a few years ago, there may be a troubling connection between marijuana use and periodontal (gum) disease.
Gum disease is a common bacterial infection triggered by dental plaque, a thin biofilm on tooth surfaces. As the infection advances, the gum tissues become more inflamed and lose their attachment to teeth. This often results in widening gaps or "pockets" between the teeth and gums filled with infection. The deeper a periodontal pocket, the greater the concern for a tooth's health and survivability.
According to the study, researchers with Columbia University's College of Dental Medicine reviewed data collected from nearly 2,000 adults, a quarter of which used marijuana at least once a month. They found the marijuana users had about 30 individual pocket sites on average around their teeth with a depth of at least 4 millimeters. Non-users, by contrast, only averaged about 22 sites.
The users also had higher incidences of even deeper pockets in contrast to non-users. The former group averaged nearly 25 sites greater than 6 millimeters in depth; non-users, just over 19. Across the data, marijuana users appeared to fare worse with the effects of gum disease than those who didn't use.
As concerning as these findings appear, we can't say that marijuana use singlehandedly causes gum disease. The condition has several contributing risk factors: diet, genetics, and, most important of all, how well a person manages daily plaque removal, the main driver for gum disease, through brushing and flossing.
Still, the data so far seems to indicate using marijuana can make gum disease worse. Further studies will be needed to fully test this hypothesis. In the meantime, anyone using marijuana should consider the possible consequences to their oral health.
If you would like more information on marijuana and oral health, please contact us or schedule an appointment for a consultation.