Posts for tag: nutrition
By Abington Dental Arts, PC
March 14, 2021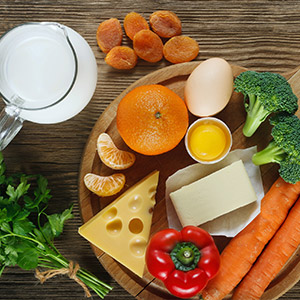 "Personalize Your Plate" is the theme for this year's National Nutrition Month in March, sponsored by the Academy of Nutrition and Dietetics. It means there isn't a single diet for all of us: We're each unique with differing body types and tastes, and our diets need to be unique as well. Still, though, you'll want to be sure to include basic nutrients that are generally good for all of us—including for our teeth.
As you "personalize" your daily diet, be sure it includes dental-friendly vitamins and minerals. Here are some of the more important ones that contribute to strong and healthy teeth, and the kinds of foods in which you'll find them.
Vitamin D. This vitamin is a key element for growing and maintaining healthy teeth and bone, mainly by helping the body absorb calcium. You'll find vitamin D in milk, eggs or fatty fish—and you'll also gain a little strolling outdoors in the sunshine!
Vitamin E. As an antioxidant, vitamin E helps the body fight free radical molecules that contribute to cancer development, including oral cancer. You'll find vitamin E naturally in seeds and nuts (and derivative cooking oils), wheat germ and whole grains.
Calcium. When included with vitamin D and phosphorus, calcium is an important "construction material" for building strong teeth and bones. You'll find calcium in dairy products like milk and cheese as well as greens, legumes and tofu.
Phosphorus. Eighty-five percent of the body's phosphorus, a companion mineral to calcium, is found in teeth and bones, where it helps to keep them strong and healthy. You'll find this important mineral in meats, milk and eggs.
Magnesium. This mineral helps mineralize teeth and bones, giving them strength and protection against disease. You can get magnesium by eating nuts, legumes, whole grains, dark leafy greens, seafood and—if you limit the added sugar content—chocolate.
Fluoride. Most people are familiar with fluoride added to drinking water or toothpaste to strengthen tooth enamel against tooth decay, but the mineral also occurs naturally in some foods. You can obtain low amounts of fluoride in seafood and black or green tea.
One last thing! While we're promoting foods that you should eat for healthier teeth, there's also one you'll want to cut back on: processed sugar. This carbohydrate is a major factor in oral bacterial growth that causes tooth decay and gum disease. So, eating foods low in sugar and high in these key vitamins and minerals will help ensure your teeth stay healthy.
If you would like more information about the importance of nutrition in dental care, please contact us or schedule a consultation. To learn more, read the Dear Doctor magazine article "Nutrition: Its Role in General & Oral Health."
By Abington Dental Arts, PC
December 04, 2020
During this time of year, many of us dust off traditional family recipes and make our favorite holiday treats. There is, however, a small price to pay for all that nostalgic goodness in the shape of a few extra pounds to deal with in the new year. We may also be increasing the risk for something even more unpleasant: tooth decay.
The main cause, of course, is a certain carbohydrate integral to many holiday goodies: sugar.  We humans love it, but so do oral bacteria that readily devour any sugar lingering in our mouth after eating. This fuels bacterial reproduction, which in turn increases the production of acid that softens tooth enamel.
There are a number of strategies you can follow to reduce this effect. You can remove sugar completely from your holiday preparations—and risk family and friends "voting you off the island." Or, you can try these tips for easing the impact of holiday sugar on your dental health.
Look for ways to reduce sugar. Just because you're not throwing the sugar bowl out the window doesn't mean you have to go all out using it. Instead, try to modify older recipes (or look for newer versions) to decrease the amount of sugar in candies and baked goods. You may also consider alternative sweeteners like sucralose that tolerate high baking temperatures.
Balance savory with sweet. Not all holiday treats need to be sweet—you can add items that take advantage of more savory seasonings. For example, try offering up popcorn with a sprinkling of cinnamon or other holiday spice, or a creative assortment of cheeses (which in turn promote saliva flow to neutralize acid).
Combine treats with mealtimes. Continuous snacking may be part of the holiday tradition, but it can also raise the risk for tooth decay. Acidity increases when we eat, but saliva normally neutralizes it within thirty minutes to an hour. However, saliva can get overwhelmed during continuous snacking, resulting in longer periods of high acidity that damages tooth enamel. Instead, try to combine snack times with mealtimes.
Don't neglect your oral hygiene. Even though things can get hectic during the holidays, make a point of keeping up daily brushing and flossing. Regular hygiene keeps dental plaque, a thin film of harmful bacteria and food particles (including sugar), from building up on your teeth. Reducing plaque lowers your overall decay risk. Attention to oral health through your day-to-day dental hygiene routine along with regular professional cleanings and checkups is the best thing you can do to avoid dental disease.
The holidays should be a joyous time for you and your family. They can also be a healthy time for your teeth and gums, if you minimize the role of sugar in your holiday treats.
If you would like more information about boosting your dental health, please contact us or schedule a consultation. To learn more, read the Dear Doctor magazine articles "Nutrition & Oral Health" and "The Bitter Truth About Sugar."
By Abington Dental Arts, PC
February 10, 2017
While it is common knowledge that brushing and flossing your teeth every day contributes to a healthy mouth, it is often overlooked that
your diet also plays a large role in the health of your teeth. Understanding the effects of certain foods and beverages on your teeth can help you take the extra initiative to avoid them, helping your teeth remain healthy and clean for years to come. Find out more about the best diet for your teeth with Dr. Jeffrey Bell, Dr. Dale Collins and Dr. Amy Cravath at Abington Dental Arts in Clarks Summit, PA.
What are the best foods for my teeth?
One of the best things you can do for your smile is to drink plenty of water and stay hydrated. Most doctors recommend a minimum of eight glasses of water a day to stay fully hydrated. Additionally, crunchy vegetables help wash away food particles and bacteria from the mouth. Calcium-rich foods like dairy help keep your teeth strong and healthy to stand up to everyday wear and tear which could otherwise harm them.
Which foods should I avoid for a healthy smile?
Often, when paired with a healthy at-home oral care routine, avoiding some known decay-causing foods is the easiest way to avoid tooth decay altogether. Sugary foods like candies and drinks like sodas are well-known for contributing to tooth decay which, in turn, causes gum disease. However, not everyone is willing to stay away from these foods at all times. If you do consume sugary foods or drinks, be sure to follow them up with a glass of water or, better yet, brush your teeth after consuming them. This will help wash away or remove the bacteria and food particles left behind on the teeth to help prevent tooth decay.
Routine Examinations and Cleanings in Clarks Summit, PA
A strong at-home dental routine consists of brushing your teeth twice daily and flossing at least once. However, this is only half of the recommended oral care regimen. Patients at average risk of tooth decay and gum disease should see their dentist at least twice yearly for routine tooth examinations and professional cleanings. These important visits will further contribute to preventing problems like tooth decay and gum disease.
For more information on keeping your teeth and oral tissues healthy through your diet, please contact Dr. Jeffrey Bell, Dr. Dale Collins and Dr. Amy Cravath at Abington Dental Arts in Clarks Summit, PA. Call (570) 586-1411 to schedule your appointment with your dentist today!